5G Radio Access Network Optimized
for mmWave Spectrum
Unleashing 5G in Millimeter Wave Spectrum
5G is designed to deliver gigabit speeds with millisecond latency in radio frequencies between 24 and 71 GHz, commonly known as millimeter wave (or mmWave) spectrum. This spectrum is abundant, inexpensive, and globally available. Yet, it is barely used by service providers because a mmWave deployment is likely to require at least 10 times more cell sites than a comparable deployment in low or mid-band spectrum. This makes it cost-prohibitive to build mmWave using the same network architecture and deployment approaches that service providers use for lower frequencies.
Verana is unleashing mmWave 5G by offering a new network architecture that enables service providers to build mmWave 5G networks without bringing fiber backhaul to every cell site. Not only does this slash the cost of building, operating, or leasing fiber, it redefines what a cell site is, and fundamentally transforms the way service providers build networks.
Ground-Breaking Radio Access Network Solution for mmWave 5G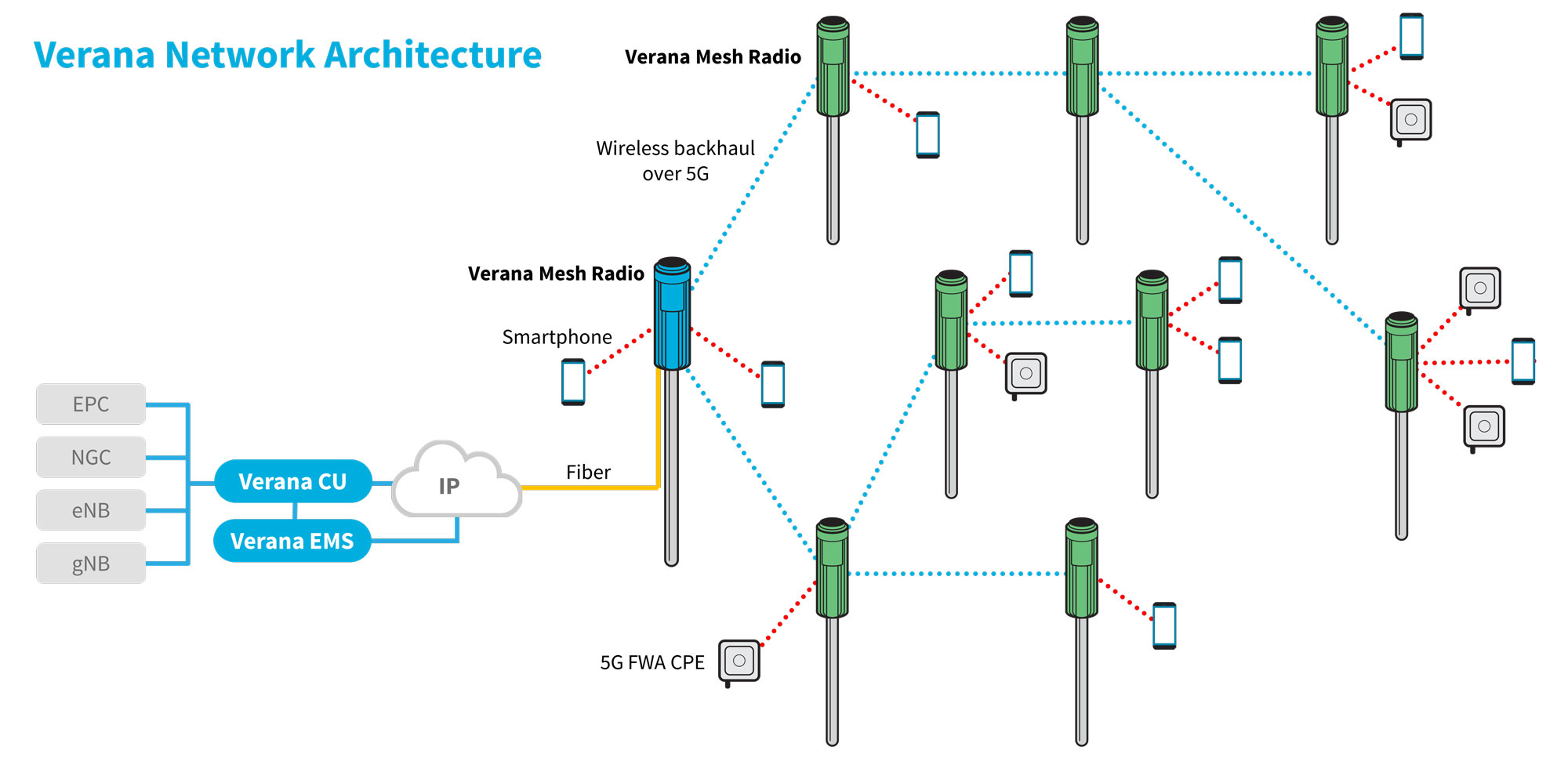 Verana has developed the industry's first 5G Radio Access Network solution for millimeter wave spectrum with multi-hop self-backhauling capability. Verana's purpose-built 5G small cells, called Mesh Radios, provide 5G service to end-user devices as well as wireless backhaul to other Mesh Radios. A wirelessly backhauled Mesh Radio can do the same, creating a multi-hop network. Mesh Radios connect to Verana's Centralized Unit (CU) and are managed by its Element Management System (EMS). The EMS, in addition to providing carrier-grade FCAPS functionality, is responsible for orchestrating plug-and-play deployment of self-backhauled Mesh Radios.
Verana's solution is based on 3GPP's Integrated Access and Backhaul (IAB) architecture and is compliant with applicable 3GPP and O-RAN interfaces. Verana's innovation lies in building a multi-hop IAB system that preserves network capacity, minimizes latency, and maximizes mmWave coverage.
Purpose Built for Multi-Hop Self-Backhauling
Verana Mesh Radio is the industry's first 5G small cell purpose-built for self-backhauling. Each Mesh Radio has three mmWave antenna panels that together provide 360° horizontal coverage. Its pool of programmable baseband processors is used to implement both, a 5G base station and a 5G UE that operates as the Mesh Radio's backhaul client. The 5G base station can serve end-user devices and provide wireless backhaul to other Mesh Radios. The backhaul client can search for the best parent using all three antenna panels and then select the panel that provides the best backhaul link. An Ethernet port on the Mesh Radio allows authorized third-party devices to the access the Internet over the Mesh Radio's backhaul link.
A Mesh Radio can be connected to fiber backhaul. When so connected, a Mesh Radio is called a donor, and all its baseband resources are used to implement the base station function. Donors provide capacity that self-backhauled Mesh Radios distribute over a large area. As a service provider's capacity needs grow, any of the self-backhauled Mesh Radios can be converted into donors by connecting them to fiber.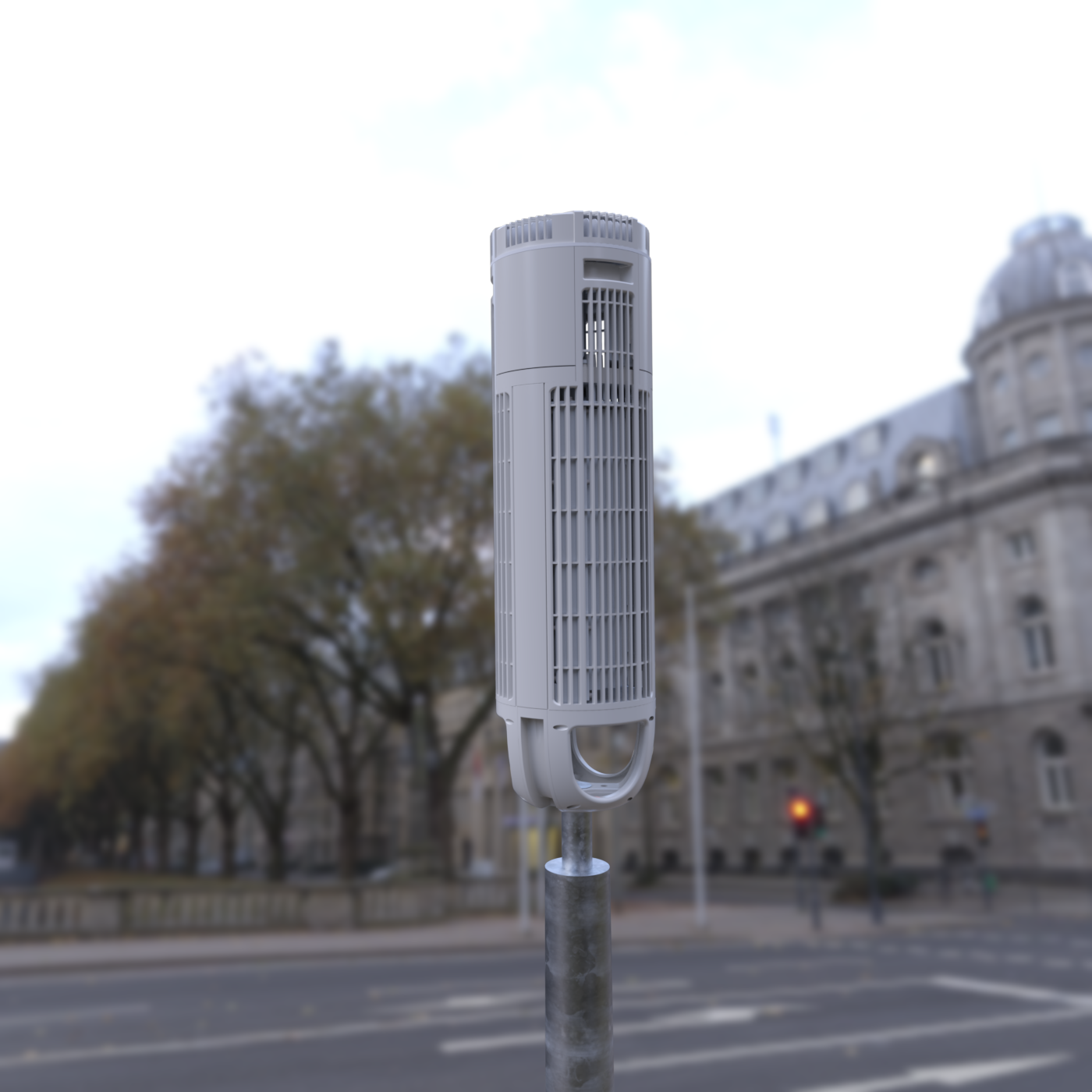 Enables Rapid, Cost-Effective and Success-Based Deployments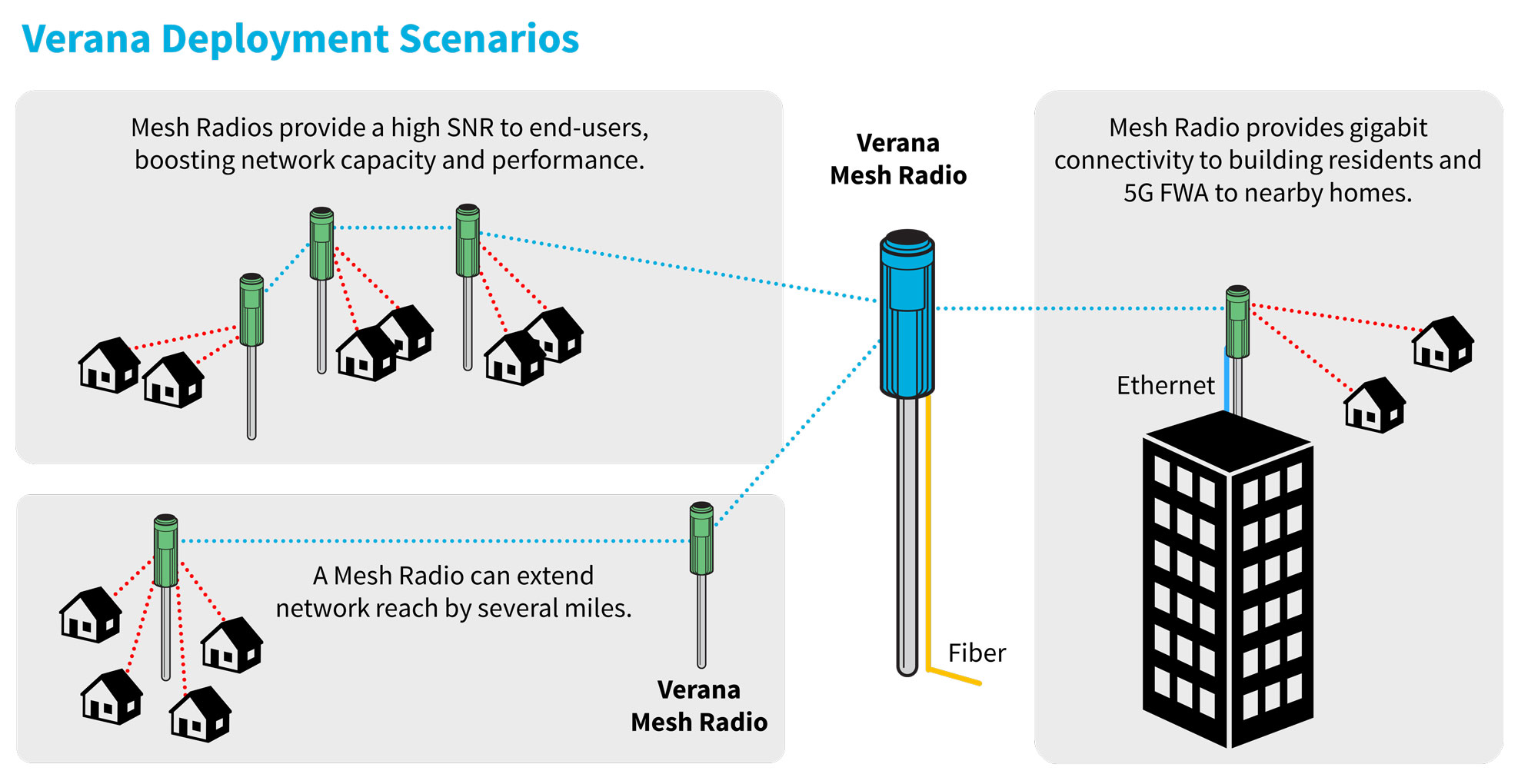 With Verana, the deployment of a mmWave 5G network is not constrained by the availability or expense of fiber backhaul. Operators can start building a mmWave 5G network by deploying Mesh Radios at locations where fiber backhaul is readily available, and distributing the capacity provided by these Mesh Radios over a large area using several self-backhauled Mesh Radios.
It is easier to acquire sites for self-backhauled Mesh Radio than for traditional small cells. Self-backhauled Mesh Radios are uniquely capable of providing gigabit Ethernet connectivity to locations where they are installed. For instance, an operator can install a Mesh Radio as a FWA CPE on the rooftop of one of its business customers. Similarly, self-backhauled Mesh Radios can be used to provide high-speed internet services to cities for security cameras or digital inclusion.
Once an operator acquires subscribers and has a revenue stream, it can easily increase the capacity of the mmWave 5G network by connecting hitherto self-backhauled Mesh Radios to fiber backhaul.