Licensed mmWave spectrum has been available for more than two decades. Yet, no company has managed to build a successful business in these bands. Why will it be different now?
The FCC first auctioned mmWave spectrum in 1998 (Auction 17, LMDS, 28 GHz) and sparked off a flurry of investment. Several companies, large (Lucent, Nortel, Motorola, Cisco, and others) and small (Newbridge Wireless, Ensemble Communications, Unique Broadband) offered proprietary wireless systems that operated in the 28 GHz band and at least 104 carriers launched initiatives to offer LMDS services. They all failed.
One of the big reasons for their failure was the lack of inexpensive and easy to deploy customer premise equipment (CPE). To win market share in competitive broadband markets, carriers have to provide CPEs at a nominal cost and absorb the cost of installing them. According to a story in Multichannel News, the price of an LMDS CPE in 1998 was over $3,500 (or $5,500 in 2020 terms). Even though LMDS CPE prices reduced in subsequent years, they still remained quite high. For new carriers, CPE subsidies and installation costs quickly became orders of magnitude larger than the capital expenditure required to build the network, and killed any chance of success.
In recent years, Starry Communications has successfully offered a fixed wireless service in the Lower 37 GHz band, with speeds as high as 200 Mb/s to over 100,000 subscribers by leveraging the 802.11 ecosystem, but since Starry builds its own base stations and CPEs, these CPEs continue to be expensive and limit Starry's services to multi-dwelling units (MDUs) where the CPE can be installed on the rooftop and connected to the building's Ethernet network. Verizon launched a fixed wireless service in the 28 GHz band using a proprietary wireless technology called 5G-TF in 2018, and though the technology delivered peak speeds close to 1 Gb/s, Verizon had to place these deployments on hold because of the cost of both, network equipment and CPEs.
Standards Are Essential for Success
We have seen time and time again that no access technology can succeed without inexpensive CPEs. And only way to get inexpensive CPEs is standardization.
All successful access technologies, from DSL and DOCSIS in the wireline domain, to GSM and LTE in the wireless domain, rely on standardization. With a standard in place, carriers can invest with confidence, knowing that they are not dependent on a single supplier for network equipment and end-user devices. Once multiple carriers commit to a standard, technology providers can confidently invest in building products that are best aligned with their core competencies. Standards enable companies like Verana Networks to focus on building innovative access network equipment, while enabling semiconductor, smartphone and CPE companies to focus on innovative end-user equipment. The efforts of every participant in a standards-based ecosystem lead to better products at a lower cost. As the capabilities of a technology increase and its cost decline, more carriers enter the market, creating a virtuous cycle.
5G NR — The First Global Standard for mmWave Spectrum
More than twenty years after mmWave spectrum was first licensed, we now have a global standard that supports it — 5G New Radio (5G NR).
The power of 5G-NR lies in the wide range of frequency bands it supports, all the way from 600 MHz to mmWave bands. This design choice makes the economies of scale created by the entire next-generation wireless ecosystem available to mmWave spectrum. A semiconductor supplier can now build a single baseband chipset that works for the entire 5G market, in low-band, mid-band, and mmWave spectrum. And this is exactly what semiconductor suppliers like Qualcomm are doing.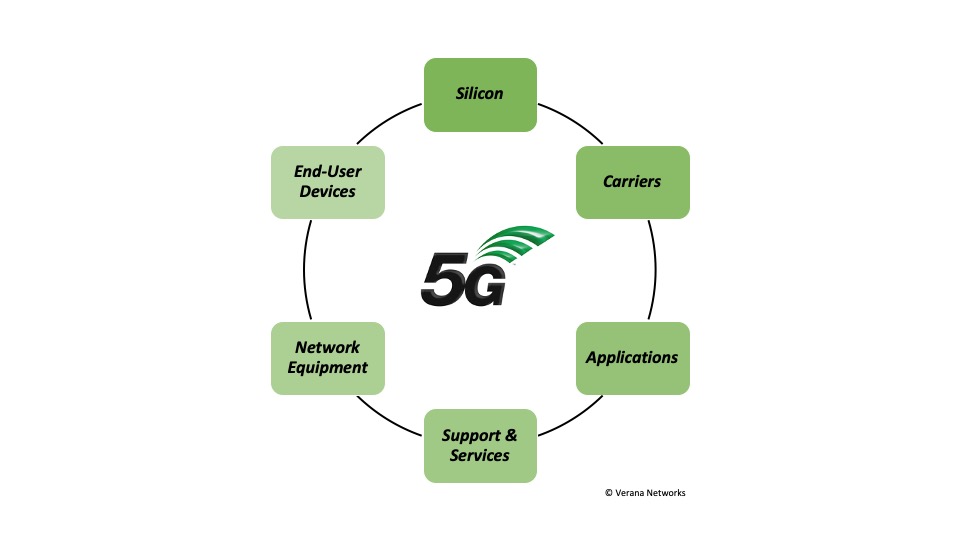 In February 2018, Qualcomm announced its first generation 5G chipset, Snapdragon X50 and a year later, it announced its second generation 5G chipset, X55. Both, X50 and X55, support 5G in mmWave bands. And Qualcomm is not the only semiconductor supplier that offers chipsets for mmWave 5G end-user devices. In October 2019, NXP announced a family of software defined baseband processors that can be used for 5G CPEs in both mmWave or sub-6GHz. MediaTek, another large semiconductor vendor, supports 5G in sub-6 GHz bands today and is expected to support mmWave bands by 2021.
Growing Number of mmWave 5G End-User Devices
The availability of low-cost, high-performance, 5G baseband chipsets has enabled several suppliers to offer 5G smartphones and fixed wireless access (FWA) CPEs.
According to the Global Mobile Suppliers Association (GSA), 135 5G devices were commercially available by July 2020, of which 31 devices (23%) supported mmWave bands, while the total number of announced 5G devices exceeded 300. In August 2020, Verizon Wireless offered nine mmWave-capable 5G mobile devices to enterprises and consumers and one FWA CPE. AT&T includes several mmWave-capable devices in its 5G smartphone lineup.
The growing availability of end-user devices that operate in mmWave spectrum makes it possible for carriers to use mmWave spectrum to boost network capacity in densely populated areas and as well as to offer competitive home internet services.

A New Generation of mmWave 5G CPEs Will Transform the Fixed Wireless Market
Since home internet subscribers consume 30–50 times more data than smartphone subscribers while generating approximately the same monthly revenue, the only rational way to offer home internet services is with abundant and inexpensive mmWave spectrum.
Early mmWave 5G CPEs were built just like their smartphone cousins. Their transmit power was limited to 23 dBm (200 mw), they had an LTE modem to support Non-Standalone (NSA) operation, and they required "white glove" installation. However, all this is about to change with new CPEs specifically designed to make the fixed wireless business case work.
The first big change on the horizon is the introduction of high power CPEs. The 5G-NR standard allows end-user devices that can deliver up to 35 dBm (~3W) to antenna arrays and transmit beams with an Effective Isotropic Radiated Power (EIRP) as high as 55 dBm. Such devices are called Power Class 1 devices. These high power CPEs not only increase the uplink data rates but also increase the coverage area of mmWave 5G base stations, thereby reducing the capital expenditure per subscriber. The industry's first high power mmWave CPEs are expected in Q4'2020, based on Qualcomm's QTM527 mmWave antenna module, combined with Qualcomm's X55 baseband chipset.
Secondly, it will soon be possible for majority of consumers to self-install 5G CPEs. By eliminating the need for "white glove" installations, carriers can not only reduce the cost to connect a subscriber by several hundred dollars, but also increase customer satisfaction. Verizon Wireless already offers one such CPE, proving that self install is possible.
Thirdly, several major mobile carriers plan to deploy a 5G Core (5GC) within the coming 12–24 months in order to offer services like Network Slicing and Mobile Edge Computing (MEC). Once a 5G Core is in place, fixed wireless CPE suppliers can build CPEs that support Standalone (SA) mmWave 5G. This will not only reduce the cost, power-consumption and size of CPEs but also expand the market, since Standalone 5G CPEs enable carriers that own mmWave spectrum but do not operate an LTE network to use 5G-NR. For instance, at a Fierce Wireless virtual event on July 22nd 2020, the CEO of Starry said that it would be open to adopting 5G (instead of its 802.11-based technology) if a 5G SA CPE was available for $200.
5G-NR Enables mmWave Spectrum to Fulfill its Promise
In a previous blog post, I had written about the promise of mmWave spectrum. A large part of this spectrum (in the 28 and 39 GHz bands) has been available for almost two decades. Unfortunately, for most of these two decades, the only way for carriers to use this spectrum was with proprietary wireless technologies. Though proprietary wireless technologies may work well for niche applications, they are unsuitable for mass market applications that require inexpensive customer premise equipment.
With 5G-NR, carriers can finally use mmWave spectrum to deliver more bandwidth to their mobile users, and more importantly, grow their revenue by offering gigabit home internet services.