US operators have spent almost $2 billion building mmWave 5G networks, yet these networks cover less than a few million subscribers. Does this mean that mmWave 5G is too expensive to build, or does this mean that coverage is not the right metric for judging the value of mmWave 5G?
And, while operators worry about measuring the ROI of mmWave 5G, regulators are looking for better ways to license mmWave spectrum. Germany's regulator, Bundesnetzagentur (BNetzA), may have just found the answer. Learn about these topics and more in this issue of Verana's quarterly mmWave market update.
At the end of 2020, there were 20,000 mmWave cells in the United States
In its quarterly earnings call this January, Verizon let the world know that it had deployed 16,000 mmWave cells by the end of 2020, and planned to build another 14,000 in 2021, guidance that it reiterated in March, even after it had acquired a massive chunk of C-band spectrum. Most of these 14,000 cells will be used to expand Verizon's 5G Home service from ten cities to thirty cities.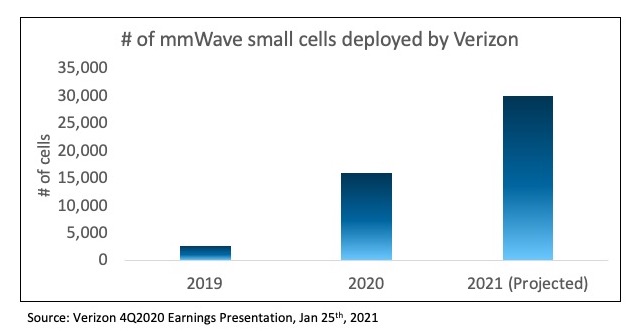 AT&T, the other major mobile network operator that has launched mmWave 5G, offered mmWave 5G service in 36 cities and 10 large venues by mid-March 2021, about half as many cities as Verizon did. Although AT&T has not disclosed the number of mmWave sites in its network, it would be reasonable to estimate that AT&T deployed at least 4,000 sites in these cities and venues by the end of 2020. Add the two, and we can safely estimate that the United States had at least 20,000 sites at the end of 2020.
According to knowledgeable industry sources, a US carrier spends $70,000 to $100,000 to build a three-sector mmWave site. Equipment is expensive, but so is the cost of acquiring sites, getting permits, and bringing fiber and power to each location. Based on these estimates, US carriers have already spent close to $2B on building mmWave 5G.
Capacity, not coverage, is the right measure of mmWave 5G's impact
Analysts were quick to pooh-pooh Verizon's mmWave 5G build-out, claiming that the money spent on it not was not worth the coverage it delivered. According to Walter Piecyk of LightShed Partners, 16,000 mmWave sites are not enough to cover Delaware. Fair point, but then was Verizon trying to cover Delaware?
At Verizon's 2021 Investor Day, Kyle Malady, its CTO, said that Verizon prefers to use "% of overall network traffic" as the yardstick for measuring the ROI of mmWave deployments. He expects that by the end of 2021, 5% of network traffic will be on mmWave, growing to 10% by the end of 2022. In the long term, he expects 50% of usage in the densest urban markets to be on mmWave. In other words, he views mmWave as a tool for targeted 5G capacity.
Mike Sievert, T-Mobile's CEO, discussed mmWave in a similar vein at its analyst day. When asked if T-Mobile's network has enough capacity to serve 7–8 million home broadband subscribers, each of whom consumes 50X more data than a smartphone subscriber, Mike said that they have the capacity to serve home Internet users on their mid-band network for several years and if they need more capacity, they can use their mmWave spectrum.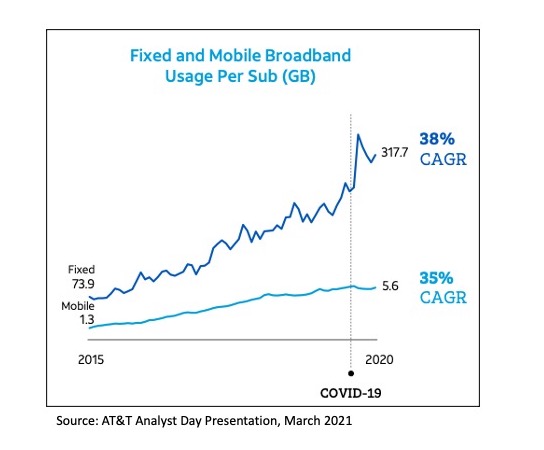 I couldn't agree more with Verizon and T-Mobile. An order of magnitude increase in network capacity is essential to steal a piece of the home broadband pie, and mmWave 5G provides such capacity. All I would add is that operators will need a way to distribute this capacity cost-effectively. Unless a signal reaches its intended user, it is but noise (hint: that is where Verana Networks comes in, but more on that in another post).
Germany offers a New Model for Licensing mmWave Spectrum
In 2019, five operators licensed nationwide mmWave spectrum in Italy for just 33 million euros each, or just $0.0031 per MHz/POP, a third of what US operators like AT&T and T-Mobile paid for similar spectrum in the same year. These operators did not bid much for mmWave spectrum because they were acquiring mid-band spectrum in the same auction and knew that it would be years before they would need a capacity boost from mmWave. Yet they licensed the spectrum, much to the detriment of Wireless ISPs and enterprises who could have put this spectrum to use sooner. So, is it in the public interest to auction mmWave spectrum?
The German regulator, BNetzA, has proposed an alternative to auctions for mmWave spectrum. It has made 3.25 GHz of spectrum (24.25–27.5 GHz) available to anyone who has a concrete plan to utilize it for a fee. The fee is based on the amount of spectrum requested, the population and area covered, and the duration for which the license is sought. The only caveat is that the licensee must use the spectrum within a year.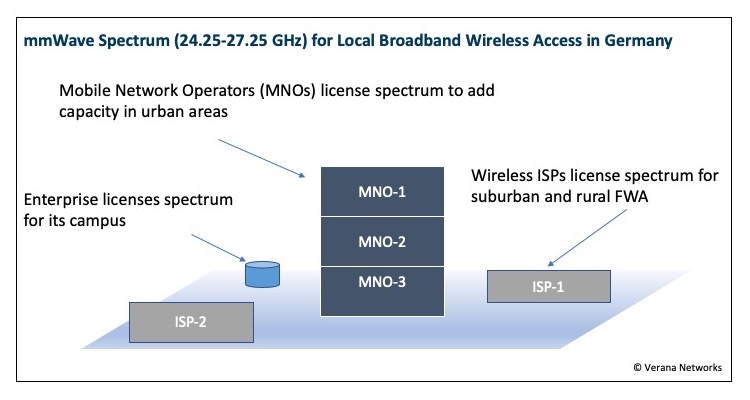 Anyone who needs mmWave spectrum in Germany can get it, from large operators to small internet service providers and enterprises. And the spectrum licenses are not nationwide but local. You can imagine a large mobile operator licensing spectrum for an urban city center, a WISP getting spectrum to provide high-speed internet in low-density suburbs, and a large auto manufacturer getting a license to use it within its campus. There are no nationwide licenses, no multi-year build-out requirements, and no spectrum squatting.
If you found this post useful and would like to stay in the know about what is new and interesting in mmWave 5G market, do subscribe to my posts on Medium or follow Verana Networks on LinkedIn. I welcome your comments, questions and feedback!